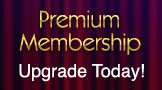 10. Open Promenade
Fact Sheet
Official Name:
Open Promenade
Dance / Level:
Full Bronze Tango
Aliases:
Promenade with Open Finish
Suggested
Prerequisites:
Closed Promenade, Open Finish
The Open Promenade is a slight departure from the Closed Promenade, where man steps forward in CBMP, outside partner on the last step. It can be thought of as the promenade version of the Open Finish.
Like the Open Finish, there are variations of the Open Promenade that can replace the last 3 steps:
The normal Open Promenade, to be followed by a LF Forward Walk, or any figure beginnig with man's left foot forward (alignments permitting).
Open Promenade to Promenade, where after the final step, the man turns lady to promenade position, counted "and". This would be followed by another promenade figure.
Checked Open Promenade, where man checks his weight on his right foot on the final step, preparing to step back on his left foot into the following figure. This can be followed by any figure beginning with man back on his left foot, such as Back Corté, LF Back Rock, or Outside Swivel, any of which will begin with lady in CBMP, outside partner on the first step.