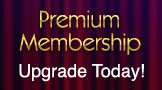 5. Traveling Voltas
Voltas come in three basic varieties: Spot Voltas, where dancers turn on a single spot, Circling Voltas, where they turn around a wider circle, combining progression with rotation, and Traveling Voltas, which are taken along a straight line, or with a gradual curve.
The Traveling Volta is a repeating side-cross action, danced to the counts 1, a2, a1, a2 (two measures total). The side step is always on the "a" count, and the cross step, which is always a cross in front, is danced on the numbered counts (1 and 2). The Voltas travel to the left when taken with right foot crossing, and to the right when taken with the left foot crossing. They are typically danced without turn, but can be curved to the right or left.
The figure called Traveling Voltas is one where both man and lady dance two measures of a Travling Volta in closed position on opposite feet. But Traveling Voltas as a basic component are also used in the figures Criss Cross Voltas and Shadow Traveling Voltas.