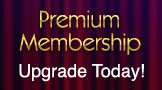 10. Criss Cross Voltas
The Criss Cross Volta is a type of Traveling Volta, which is a repeating side-cross action, danced to the counts 1, a2, a1, a2 (two measures total). The side step is always on the "a" count, and the cross step, which is always a cross in front, is danced on the numbered counts (1 and 2). The Voltas travel to the left when taken with right foot crossing, and to the right when taken with the left foot crossing.
Criss Cross Voltas are taken with man and lady moving in opposite directions, with the lady passing in front of the man under a joined LH-RH hold. They are typically preceded by the Side Samba Walk (figure #3b) or Stationary Samba Walks (figure #3c), and can be repeated as desired or combined with Criss Cross Bota Fogos (figure #7).