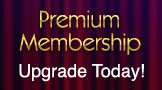 A. The Tango Close
The Tango Close in its most basic form is a series of 3 steps similar to a Waltz Box Step, taken without rise & fall, to the counts "Quick, quick, slow". The first two steps are forward, then side for man (backward, then side for lady). On the third step the free foot will close to the standing foot, without weight. It is important when learning the Tango Close to remember to close the foot without placing weight on it; Otherwise, you will have the wrong foot free to take the next step!
Tango Closes are typically used as an ending to most figures in the bronze and silver level American style Tango syllabus -- The "period" on the end of the Tango sentence. Musically this would be referred to as a cadence, which is the ending of a musical phrase. Most Tango Closes consist of 4 counts ("quick quick slow"), but a couple of them in the intermediate to advance bronze level extend to 6 counts ("quick, quick, quick, quick, slow").
The Tango Close, like the basic Tango Walks, naturally turn to the left. Beginners are often taught to dance without turn, but as dancers progress into more advanced Tango technique, the turn occurs quite naturally. The one exception is the Backward or Natural Tango Close, which turns to the right.
There are a total of 8 variations of the Tango Close used in the Bronze Tango syllabus. They are:
| | |
| --- | --- |
| 1. The Basic Tango Close (QQS) | The man's first step is forward; The final step closes, slightly forward, whole foot without weight. Turn, if any, is to the left. |
| 2. The Drag Tango Close (QQS) | The man's first step is forward; The final step closes partway, inside edge of ball of foot, without weight. Man's and lady's knees interlock. Turn, if any, is to the left. |
| 3. The Brush Tap (QQ&S) | The man's first step is forward; On the final step, the moving foot brushes toward the ankle of the supporting foot, then points to the side without weight. Turn, if any, is to the left. |
| 4. The Tango Close to Promenade (QQS) | The mans first step is forward; The final step does not close. The foot remains in place and man and lady turn to promenade position. |
| 5. The Natural Tango Close (QQS) | The man's first step is back; The final step closes, slightly forward, whole foot without weight. Turn is to the right. |
| 6. The Natural Tango Close to Promenade (QQS) | A combination of the Natural Tango Close and the Tango Close to Promenade. The man's first step is back, turning to the right, and the action is ended in promenade position. |
| 7. The Progressive Side Step Tango Close (QQQQS) | Also known as Double Tango Close, a series of 5 steps. Man's part is forward, side, forward, side, close (without weight). Lady's part is natural opposite. |
| 8. The Turning Rock Tango Close (QQQQS) | A combination of two components: A Turning Rock (QQ), followed by a Tango Close (QQS). The Tango Close can be Basic, Drag, Brush Tap, or Tango Close to Promenade. Turn is to the left. |