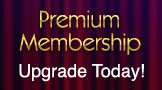 American Style Tango
Promenade with Left Swivel
5. Promenade with Left Swivel
Fact Sheet
Official Name:
Promenade with Left Swivel
Dance / Level:
Beginning Bronze American Style Tango
Aliases:
Promenade, Promenade Basic, Promenade with Left Turn, Promenade Swivel, Promenade Link
Suggested
Prerequisites:
None
The promenade position is defined as a "V"-shaped dance position whereby the man and lady travel in the same direction, toward the open end of the "V".
Promenade in Tango comes in many flavors. The left swivel is by far the most popular with American style and social dancers.
This promenade figure begins, as most do, with two walks in promenade position. On the end of the second step, the man leads the lady to swivel to the left on her left foot, returning to closed position. This is followed by a normal Tango Close.
The most notable aspect of Promenade is the fact that the direction of travel, the alignment of the body, and the alignment of the feet are all different. Although the position is described as a "V"-shape, this is only a description of the turning open of the feet and lower body. The upper body should remain turned toward partner so that the man's and lady's top-line remain as close to parallel as possible. The heads should turn to look into the direction of travel, which is towards the dancers' open sides. For example, if the Promenade is to travel down line of dance, the man's feet should be turned towards diagonal wall while the lady's feet point to diagonal center. However, the man's upper body should remain facing wall, while the lady's upper body remains facing center. All the while, the heads should turn to look towards the direction of travel, which is straight down line of dance.
Variations on Directions of Travel
As written, this figure moves along line of dance and ends with man facing / lady backing diagonal wall. However, it can also move toward diagonal wall, diagonal center, or even straight toward center if the flow of traffic allows. The Tango Close, as always, can be taken without turn, or up to 3/8 turn to left. This gives you an array of possible combinations of direction of travel and alignments.
Variations on Amounts of Turn: The Swivel
There are two popular variations on the amounts of turn taken during the swivel itself on the second step:
Man and lady each turning 1/8 (man to right, lady to left) to face each other. Man's footwork will then be heel-ball. If taken down line of dance, the swivel would end with man facing / lady backing wall.
Lady turning 3/8 to left. This adds a degree of difficulty, requiring the man to turn his toe in on step 2 (pointing toward line of dance) and shift the lady slightly farther across his track to allow her to move in front of him. Lady's foot position would then be "forward in CBMP" on step 2, and the swivel would end with man facing / lady backing line of dance.