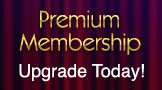 10. Outside Swivels
Fact Sheet
Official Name:
Outside Swivels
Dance / Level:
Intermediate Bronze American Style Tango
Aliases:
Swivels, Fans, Ochos, Promenade Flare
Suggested
Prerequisites:
None
The Outside Swivel is a simple action consisting of two steps. On the first, the lady steps forward, outside partner on the man's right side, and then swivels to her right to end in promenade position. The second step is akin to step 2 of Promenade with Left Swivel: Man and lady step forward in PP, then lady swivels to left to end in closed position.
Since step 1 end in promenade position, it is common to follow with step 2 of any other promenade figure, such as Promenade with Right Turn, Closed or Open Promenade, Promenade Pivot, Promenade Release, etc.
The Outside Swivel is most commonly taken after a checked action where man ends forward on his right foot, outside partner on lady's right, such as step 6 of Open Reverse Turn, or step 4 of Open Promenade. It's also used as a follow to a Cross-Body Lead, as well as the Natural Promenade in silver Tango.
Outside Swivels can be repeated, and danced to the timing "slow, slow" or "quick quick", or any combination of even counts such as SQQ, QQS, etc. When danced to a slow count, the lady's footwork on either step is is heel-ball (foot flat). When danced to the quick timing, her steps will be slightly smaller, and steps taken on balls of the feet.